Ok, it's finally here… the moment you have all been waiting for . . .
or maybe not.
It is the Adorable Loving Husband's turn to write a blog post. That's right, Chelsea has finally turned over the reins to me to write a post for what she has always told me was "our" blog. I have been bugging her about when I could write one of these things and I thought I would have a ton of things to say. Now it seems I have writer's block.
First off, let me say that I am having an amazing time watching our little bundle of joy grow and become more aware of her surroundings. It still amazes me to look into her eyes and think that Chels and I made this cute little human being, even if she is staring blankly back at me! I cannot wait for the rest of this journey, but make sure that I cherish every moment along the way.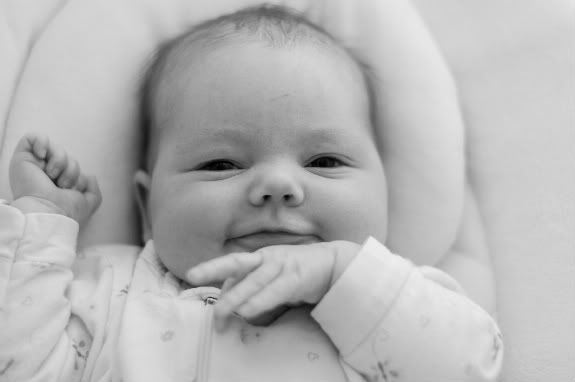 I have some questions from people that Chels gave me to answer, so I will do that.
What is your favorite thing to do with Kherington?
I would say that sitting in my recliner with her is my favorite time. I will either sit her on a pillow next to me with my arm around her or lay her on my chest so she can look at me. We really enjoyed watching basketball together as the NCAA tournament started. She would start to doze off and I would jump or say something at the T.V. and she would startle, nearly jumping out of my arms. I look forward to sharing my love of sports and the outdoors with her as she grows.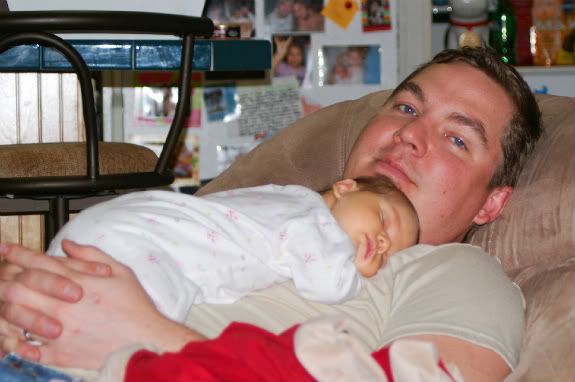 What has changed the most for you?
The biggest change that has come from Kherington being here is my schedule. I get up a little earlier now to give her the first feeding when we have extra breastmilk in the fridge. I like this time because she focuses on me and scans my face as I watch her eat. The other change is that I have become a bit of a lighter sleeper, although Chels might disagree. I may not be completely coherent but I do wake up sometimes if Kherington stirs or Chels is checking on her and ask if everything is ok. I will be back asleep in
.5 seconds
if everything is ok.
What do you call her?
I haven't picked out a nick-name just yet. We are trying to stick with Kherington as much as possible, although I have a nick-name, and Chels has a nick-name from her father. Sometimes I call her Special K, but there might be some copyright infringement there. I am sure that at some point a name will come to me and that will stick, but until then it's Kherington.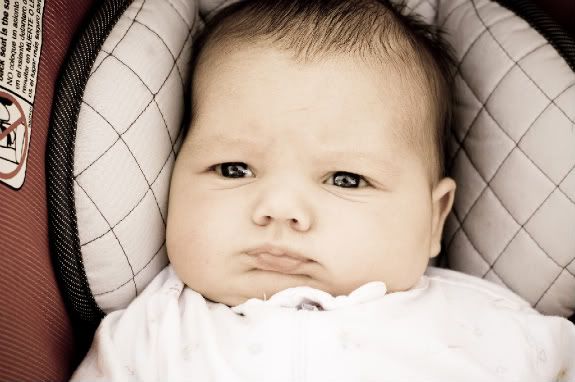 What has surprised you?
This is a great question and will probably be different for every father out there. For me it was how well I took to being a father. I was just talking to a friend yesterday that is about to have a baby in a couple months. We were talking about how he felt right now and that it had not really sunk in yet. I told him that most of it won't until they wrap that baby up and put it in your arms in the delivery room, and everything changes that instant. That is when you realize the awesomeness of God and the creation that you two and He have made. It is surely a moment I will never forget.
Any baby or parenting gear you really like? Do you change dirty diapers?
I lumped these two together because I love our Pack and Play that has the changing pad attached to the top. It is high enough that I do not have to bend over too much to get to her and you have storage underneath to keep extra stuff. And yes, I do change dirty diapers… not near as many as Chels does, but I am not with her as much either. The smell and mess really are not that bad, for now.
The one thing I cannot wait to start using is the backpack holder thing. Kherington still cannot hold her head up for very long, although she is getting better, so I have not been able to use it. Therefore I cannot give a report on it yet, but I will as soon as I have tested it. (
if
I ever get to write again!)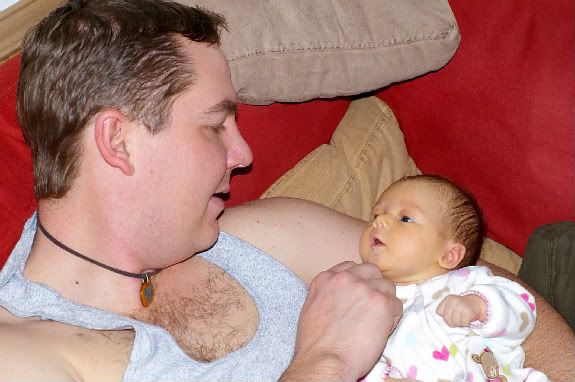 And finally. . .
What age makes you nervous?
This is the one I have thought about from the day I found out we were going to have a girl. I still don't quite have an answer. I worry about the "terrible twos" but know that we will be firm but fair with her. I worry that when she starts school she may be a little too country, but I know that her mother and I were always able to make friends, and she will too. I worry about the first time I take her hunting… if she will like it or not, but if she does not, it's not the end of the world. I worry about when she starts dating, but I know that we will raise her to make smart decisions. And I have a lot of guns and knives to clean to help the boys make good decisions, too! I worry because I am her Father and that is what I will always do!
Well, apparently I lost the writer's block 2 pages and 800 words ago. This is longer than most papers that I wrote in college, and I didn't even have to adjust the spacing or make the font just a bit bigger to fill up that second page. Maybe it's because this is about the greatest thing I have ever done in my life, help make a human being. She's mine and she's perfect, however she turns out. I love you Kherington Grace!