Baby Girl, you are
SIX
months old today! WOW!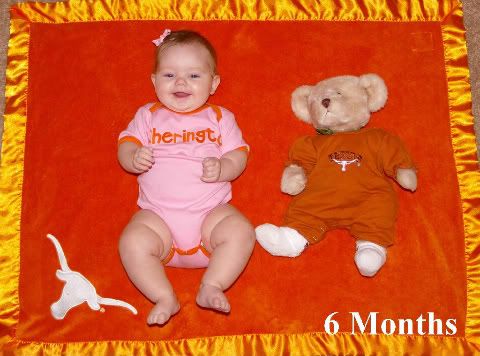 Look at you at 1 week, 3 months, and now!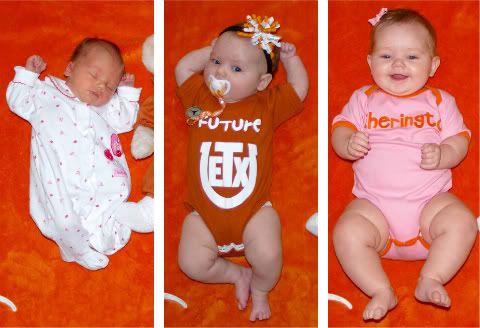 KherBear, at six months old...
You weigh 19 pounds! (97th percentile!)
You are 25.75 inches long.
You find your puppies hilarious. Kissing, petting, squealing, and pulling hair.
You look more and more like your father. (luckily he is adorable)
You sit up on your own.
You drink eagerly from a real cup, and now even a sippy cup.
Who needs bottles?!

You sleep every time we get in the car.
You just discovered your feet.
You aren't digging the solid foods yet. So far you only like avocado.
You nap at the office with a blanket over your carseat and my phone playing ocean waves.
You love screaming just for fun.
You have stayed overnight with both sets of grandparents.
You love cold teethers and sucking frozen peaches and ice from your feeder bag. (but no teeth are peeking out yet)
You are curious and inquisitive.
You wear size 3 diapers.
You have started to notice when Mommy leaves the room.
You can scooch and roll to get something you want.
You love 'My First Doll' by Carters, VTech Spin'n'Learn Top, and Sassy Sensation Station spinner.
You are still a happy, easy baby.
You make our world go 'round.