4:00am
I'm wide awake. Is Kherington ready for school? Am I? What will I miss in those precious hours? What if she learns to crawl at school? Says her first word when I'm not around? Decides to wean herself? Takes her first step into the arms of her teacher? Cries for Miss Phyllis instead of for Mommy? Won't eat enough? Gets sick all the time? Misses me? Doesn't get enough stimulation? What if I don't get to teach her about our Awesome God? I'm being selfish. Stop it. I can do this. It will be good for her. We want her to be socialized and comfortable in all situations. Go to sleep. Go. To. Sleep.

5:45am
I hear Kherington stir. But she doesn't cry, just starts playing quietly in her crib. We are so lucky.

6:00am
She still hasn't made a peep, but I go scoop her up and bring her to our bed. As she nurses we both doze off. Bliss.

7:00am
Skip's alarm goes off, but he snoozes and rolls over to snuggle with us.

7:15am
My alarm goes off. The rain is beating on the tin roof and the bed is warm and cozy. Puppies snooze at our feet. Skip has his arm around me and I have mine around Kherington. We went to bed as a couple and have awoken as a family. Happiness. I'm not ready to get up and face the day that will separate us. I am happy in this place and in this moment. I don't want to let it go.

7:45am
Hand Skip his lunch and kiss him goodbye. He's handsome.

8:15am
I am showered, fed, and ready for work. The lunches are packed. I have to wake Kherington. The video camera is in her face; she isn't impressed. Our sweet baby usually wakes with a huge smile, today she cries and whimpers. Is this a sign that I shouldn't leave her? Don't be silly, Chels. This is no big deal. Every working mother goes through it… usually much earlier than 7.5 months.

8:30am
I breastfeed Kherington. I kiss her fingers and gaze into her deep blue eyes, as I do every time that we nurse. This is so beautiful. Remember this moment. She won't get to nurse again for almost 6 hours. Hold it together.

8:45am
It is still raining cats and dogs, thanks to Tropical Storm Hermine. I load my purse, the diaper bag, Kherington's lunch, my lunch, my breast pump, Kherington's school supplies/lovie/change of clothes, etc. In the drenching rain I load Kherington into her big girl car seat. I take videos and photos; she isn't impressed.




9:00am
We walk into the church and to Kherington's lonely classroom. As of now, she is by herself three days a week without playmates. Pretty much defeats the whole goal of getting her socialized. Miss Phyllis is smiling and waiting. Kherington reaches her arms out to go to her. This should make me happy, right? Right? I am brave. I leave her things, give her big kisses, and march out the door like I'm not bothered a bit.

9:15am

A stay-at-home-mom wouldn't be sitting in traffic, in the rain, listening to her own heart break.

9:25am
I glance in the rearview mirror to see if the baby has fallen asleep. Oh, yeah. Sigh. If I were to cry, I could just blame it on the rain... Nah, I can do this. Suck it up. Be tough. In the car, in the rain is a very lonely place to be.

9:30am
Sissy calls to check on me. Skip calls to check on me. I thought I was fine, now I'm tearing up a bit. I rush into the office to occupy my mind elsewhere. Tai-Pan makes a joke about my having separation anxiety. My co-worker Barb gives me a commiserating look. She misses her already, too.

9:35-11:30am
Trying not to look at the baby toys flung about my office, I immerse myself in work and am too busy to think about her. Much.

11:30am
It is time to pump. I stare at her photos and I have to think about her. I love how she… The milk flows. The tears flow. I get milk stains on my shirt.

1:35pm
Oh wow! I look at the clock and realize that I must leave immediately to pick up Kherington. Yay, I can't wait. Time really flew and I got so much done! I almost wish I had another hour. No, No, I'm ready to hold her. The storm is still raging outside. I have been working feverishly (and saving feverishly because the power has already gone out twice). I quickly gather my work, my purse, my uneaten lunch, my breastpump, my mail, and my umbrella and scamper out the door.

1:40pm
The umbrella was pointless. In a storm like this, you just can't avoid the wet and the wind. Carefully, I venture onto the streets. The weather is awful. Must get to my baby. Sheets of water run off the windshield, the water on the pavement is deep, the wind blows the car in strong gusts, traffic lights have blown off the wire and exploded in the middle of intersections, flashing lights warn of accidents in the gloom. Must survive to raise my daughter. Carefully, I drive on.

1:55pm
I arrive at the church, five minutes early. Parents chaotically dash through the parking lot with children in tow, umbrellas flipping inside out and papers flying. I race inside, eager. As I walk down the hallway, I can feel the she's-gone-mad smile on my face stretching from ear to ear. Chill out. Act like you've done this before. Why? You haven't, and that's okay. I reach the classroom door. Ms. Phyllis is reading to Kherington. I say "Hi KherBear!" and she looks up, smiles that glorious smile, and reaches for me. Oh, love. I gather her in my arms for a hug, and she whines. I know it is because she smells my milk and wants some, but it feels like she wants to stay with Ms. Phyllis. Shake it off. Ms. Phyllis tells me that she did wonderfully, ate all of her lunch, and behaved like an angel.

2:00pm
Leaving the church, another teacher tells me how much they adore Kherington. I'm glad. And jealous. We make it to the car and not a single square inch of my body is dry. I look like a wet dog, but I feel like a proud mama bird with my chicky back in the nest.

2:10pm
Safe at home, with the rain lashing the windows, we snuggle and nurse. Kherington smells like Ms. Phyllis instead of like my sweet baby. :-( But she nurses like she is ravenous.
Elation.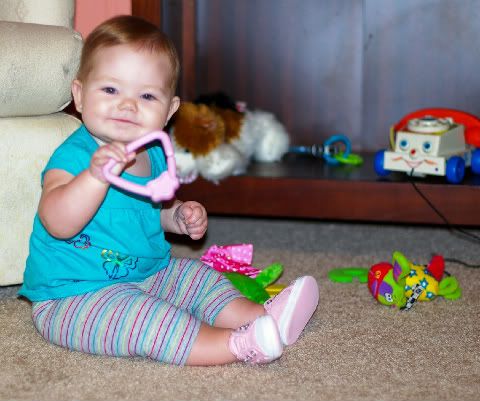 2:30-6:00pm
Kherington naps on my lap and plays at my feet while I work. We read some books, sing songs, and pretend to dance in the rain.
All is right again.



6:15-7:30pm
Daddy comes home. We play with Daddy, have dinner, take a bath, say our prayers and settle down for bed. She falls asleep at the breast and I am reluctant to put her down. Be still my heart. Safe in her crib, she rests up for another day of school. I can do this. I must do this. This is going to be good for her.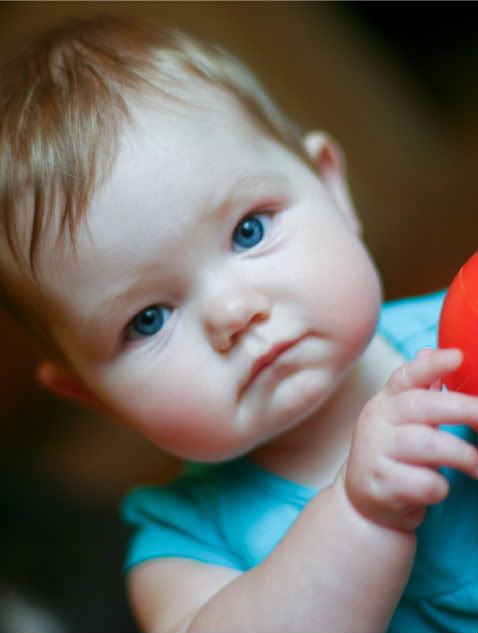 8:00-11:00pm
Snuggle with Daddy, prepare to do it all over again tomorrow. Thank you Lord for this day. For the rain. For our jobs. For the ability to care for our child. For our health and safety. Thank you, Lord, for a life that I love. And people to share it with. May I wake tomorrow to serve You and love others. Amen.