You probably gathered from the last post that Kherington took her first plane ride.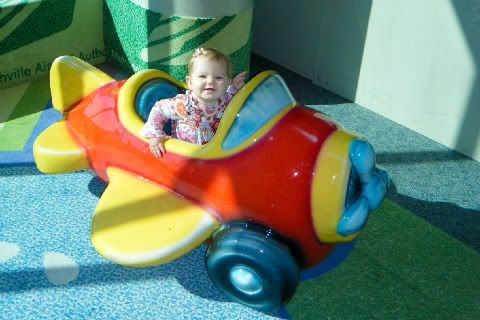 She and I flew to Tennessee, and it was quite an adventure!
You never know how children will do on a flight… if their ears will hurt, if they will sleep or scream. If they will nurse with all those people around, or have poop explode out of their diaper right when the captain turns on the "fasten seatbelt" sign. But I was up for the challenge.
We got to the airport two hours before departure.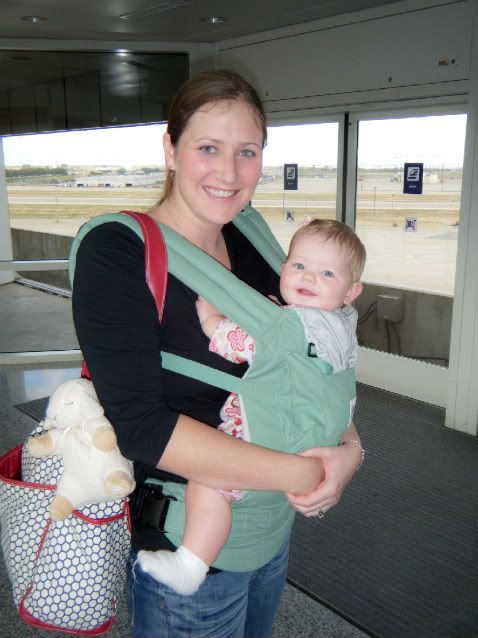 Good news- We breezed through check-in and security.
Bad news- I had 90 minutes to kill. I did everything I could think of to keep her awake and burn some energy.
She caught many an eye. Most smiled at her and were charmed. I could hear others thinking "Crap, I hope I don't sit by the baby."
Flight 1- Delta from San Antonio to Memphis, two hours
Good news- We get to board first.
Bad news- There are still 40 minutes until take-off and this plane is TINY.
I get situated in our miniature seat. I set
our goody bags
in the seats surrounding us. We meet our seat-mate.
Bad news- He is a huge man.
Good news- He is a grandpa.
In front of us are parents with three children at home. They love the goody bag idea and everyone…all 11 of them… seem relaxed and charmed. I relax.
Kherington is asleep before we even take-off. I freeze, not caring that my back hurts and my butt cheek cramps up. She sleeps an hour and twenty minutes, on her back with her head between my knees and her toes under my chin.
When she wakes she plays, flirts, and snacks.
As we descend, I get nervous about the 25 minutes we have to change planes in Memphis.
Maybe she picks up on this, and she fusses during landing and taxi.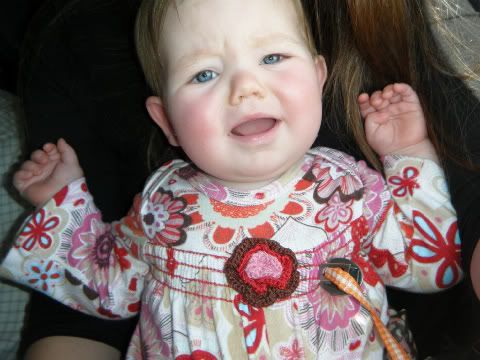 Everyone is nice about it. We deplane in Memphis.
Good news- Our connecting flight leaves out of the same gate.
Bad news- It is another impossibly tiny plane.
Flight 2- Delta from Memphis to Nashville, one hour
We change a quick diaper and board again. We sit next to a grandma. Kherington is asleep before take-off and sleeps half an hour. When she wakes we read books and eat cheerios.
Bad news- She fusses again during landing and taxi.
Good news- We've arrived!
We are visiting my friend Lauren Lea and her baby boy, Luke, in Clarksville.
I thoroughly enjoy making new connections with an old friend. She is a beautiful person, inside and out.
Our children play. We
ooh
and
aah,
amazed at how quickly life changes. We eat
amazing
food, as Lauren Lea is in culinary school.
Good news- The weather and the locale are beautiful.
Bad news- Our four day trip goes too quickly.
Back at the airport, we arrive two hours early. It is CMA week in Nashville, but we make it through check-in and security easily. They do a chemical test on a jar of baby food.
With time to kill, Kherington crawls and cruises around a playground. Playgrounds should be mandatory in every airport
I eat. Kherington steals my sweet potato fries.
She enjoys people watching as much as I do.
Flight 3- American Airlines from Nashville to Dallas, two hours
Bad news- We sit next to 3 young guys.
Good news- They are too hungover and sleep deprived to care about us.
I nurse during take-off. Fifteen minutes later, Kherington is out for an hour and a half. I stare at the seat in front of me. Why don't I ever remember to get my book out before she falls asleep? I flip through Sky Mall and mentally spend thousands.
When she wakes we play peek-a-boo with the woman behind us and play with the camera.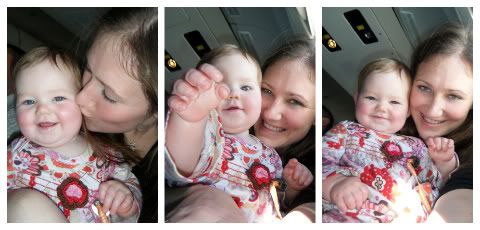 We deplane in Dallas and change terminals. Kherington loves the train shuttle!
Our flight is delayed. We crawl around at our gate. We nurse, but several people get a peep show.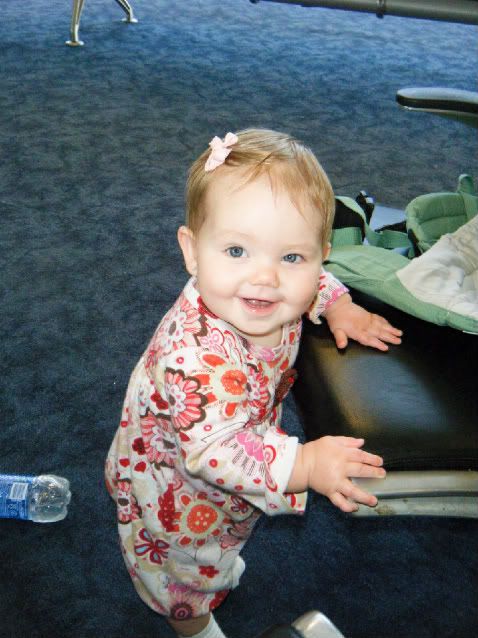 Flight 4- American Airlines from Dallas to San Antonio, one hour
Bad News- American doesn't let parents board first.
Good News- We sit next to a grandma and great-grandma. We have the bulkhead seats with lots of leg room.
Kherington charms the women, mother and daughter. The mom is 93 years old and sharp as a tack. She tells me about her 9 great grandchildren.
The captain comes on to tell us that we have another twenty minute delay on the tarmac. Just then, an awful smell wafts up from my lap. I'm dreading the lavatory wrestling match ahead of me.
Kherington crawls all over the old ladies, stinky butt and all.
As we finally take off, she falls asleep on my chest. I gaze at her sweet face and know that God loves me.
During the brief seatbelt off period, Kherington is fast asleep with her dirty diaper. So I grin and bear it.
When she wakes, a little boy at the end of the row catches her attention and has her in fits. She giggles and guffaws. It never even crosses my mind that this loud baby laughter might annoy some travelers. I think it is the most beautiful sound on earth.
Good news- We arrive and I find a nifty family bathroom to change her diaper.
Bad news- I only have two wipes.
We get our luggage. I am wearing Kherington and I am carrying the diaper bag, a huge rolling suitcase (with my camera, laptop, and lots of photo props inside), and an unwieldy car seat bag.
Good news- A coworker dropped my car in short term parking for me.
Bad news- It is in the furthest possible spot. I lug and haul and huff and puff.
We make it to the car, strap ourselves in, and both sigh! We did it!
Things I learned…
Bribery will get you far.
A sleeping baby makes everyone happy.
You don't need to bring as much in your carry-on as you think. Except wipes, double up on those.
We have an amazing, easy-going baby!
I can't wait for future travels.
For future travels when KherBear is too heavy to carry (so like,
tomorrow!),
I have my eye on this...
P.S. During the writing of this post, Kherington learned how to pull the power cord out of the back of my laptop… and she did so THREE times. Deep breath, count to ten, deep breath…