I've been cloth diapering (part time) now for almost two years. Remember
this cloth diaper review
and
this post
and
this one
with some useful information?
Well, now that Kherington is about to potty train
(hip hip hooray!)
and Hadley will soon be starting cloth, I figured I should update some of my previous posts. Preferences change as babies grow and as you find your cloth diapering groove.
So, without further ado... my
number one, go-to diaper
is the
bumGenius 3.0 OS AIO. (one size all in one)
It is discontinued... go figure. I also really like the new 4.0 AIO, but even at the largest setting, the fit is a bit snugger on my chunky gal.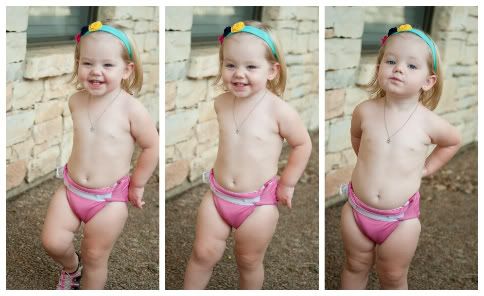 Cute model, right? Workin' that cat walk.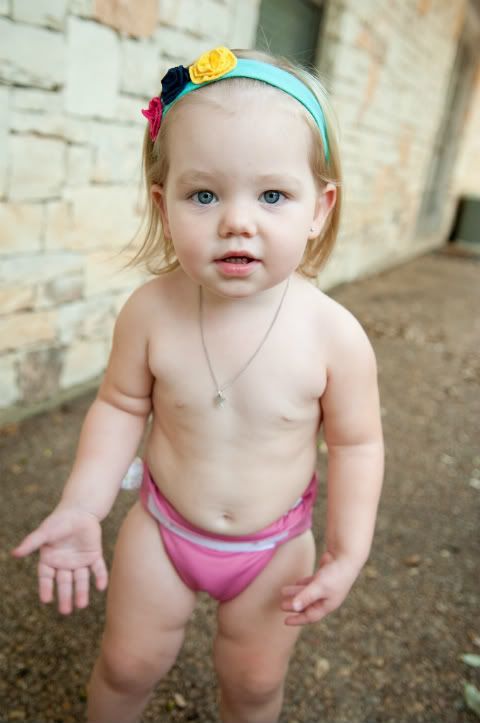 "Um, Mom? How many photos are you going to take?!"
I love this diaper because it is easy and reliable. It comes with the perfect amount of absorption already sewn in. Thats right, NO STUFFING. Of course, if you want to add more liners (for overnight or heavy wetters), you can. But for everyday use, normal wetters don't need any stuffing!
Like a disposable diaper you slide it under the bottom and velcro it on.
That's all.
Great fit. Well made. Comfortable. Has never leaked. I repeat... NEVER LEAKED!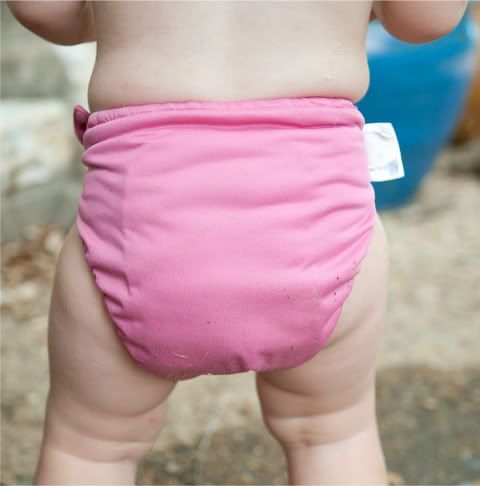 We heart our bumGenius diapers.
In close second are gDiapers. A little more fuss... but they are great diapers, good for the environment (I like the disposable liners that biodegrade or compost quickly), and cute!
I have several other brands like Fuzzi Bunz, Blueberry, and some fitteds. I use them all, but the BG 3.0 AIO is my favorite.
A few things more things you might want to know if you are considering cloth diapering:
I used to prefer snaps on my diapers, now I am hook & loop all the way. (my only exception is thirsties brand, they always popped open) They work just like a disposable diaper and stretch for a perfect fit.
I use Rockin Green Cloth Diaper Detergent or All Free & Clear. I dry in the sun anytime I can. Works magic.
You are "supposed" to wash cloth diapers every other day... but I've often gone 4 days and had zero problems. They don't stink in my pail and they wash up perfectly.
It isn't necessary, but a diaper sprayer attached to your toilet is worth every penny!
I purchased most of my diapers online. But if I did it all over again, I would look for packages of 8-10 sold in bulk. (after I was sure I liked that diaper!) Even better... I would buy used. It might sound icky... but diapers that are well cared for easily last through more than one child. If it doesn't gross you out, look around for used diapers in good condition. bumGenius even sells refresher kits for used diapers in case you want to replace the velcro tabs.
My girls still wear disposable diapers, too. When Kherington was born I tried most every brand out there. But I never tried Luvs... thinking they were cheap and wouldn't work well. I was so wrong, now I love them! They are one of the most affordable options and I have never had a problem with them.
When I buy disposables, I use Amazon Mom. You can subscribe for automatic deliveries with free shipping, and they end up cheaper than HEB, Wal-Mart, Diapers.com, and Costco! Plus... you can cancel anytime, change your diaper selection/size, add or skip a delivery, change your delivery intervals, etc with no problems. So easy. And more room in your shopping cart.
So... that's my take on diapers. Do you cloth diaper? What are your favorites? Your tricks and advice?